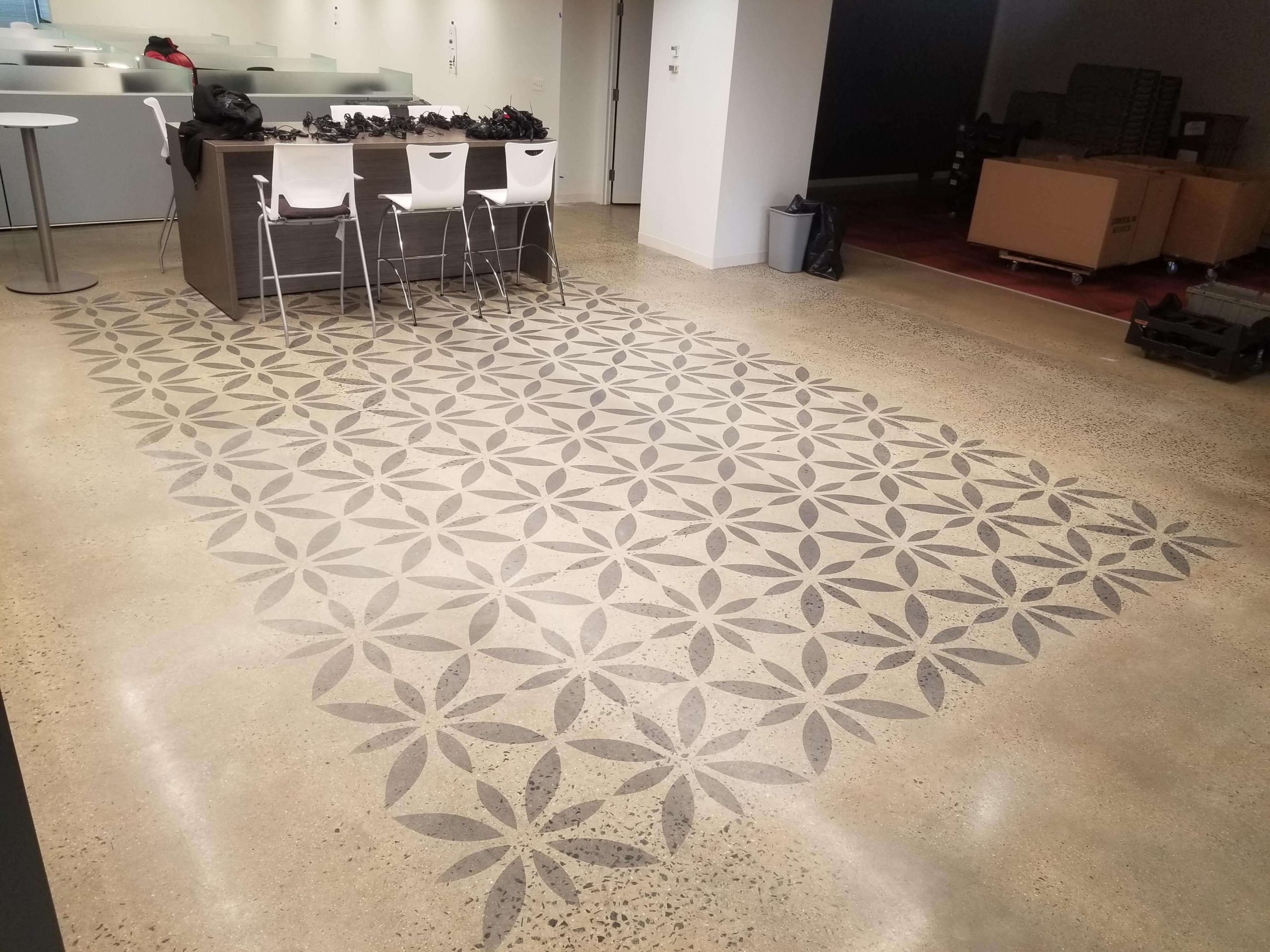 Decorative Concrete Services for Commercial Business
When people first enter your business, one of the first things they might see is the floor. In a world full of bland commercial spaces, decorative concrete can make your space not only memorable but fresh and functional too.
Benefits of using decorative concrete in your commercial space
Versatile and customizable

Resistant to damage

Requires little maintenance

Eco-friendly
Versatility + Customization: Decorative concrete can be used for pathways, flooring, gathering spaces, sidewalks, countertops, furniture, and more, and due to the styles available, it offers an almost endless number of customization possibilities. Decorative concrete can be customized using any or all of the following options:
Stamped: Brick, stone, slate, shells, cobblestone, wood, tile, marble, and so on.

Colored: Customized tints, stains, and marbling effects.

Textured: Engraved, patterned, and stenciled. Textured decorative flooring can potentially reduce the incidence of slip and fall accidents, which can be costly in so many ways.
Resistant to Damage: Commercial spaces see a lot of use, so any materials used in these spaces need to be damage-resistant and high quality while also being visually appealing. Decorative concrete meets all of these requirements. It doesn't wear down, stain, scratch, chip, or scuff easily, and it can also withstand heavy loads. Whereas other building materials must be replaced more often, decorative concrete will save you money year after year while visually enhancing your business environment.
Reduced Maintenance Requirements: Maintaining decorative concrete is simple and cost-effective. Simply mop or wipe down concrete surfaces to remove dust and dirt, wax flooring once a year, and seal any outside concrete surfaces every 4-5 years.
Eco-Friendly: Decorative concrete can offer the following environmental benefits:
Increased energy efficiency

Reduced depletion of natural resources

Reduced VOC (volatile organic compound) emissions

Can be manufactured using recycled materials

Increased air quality
Decorative concrete can be both a brand-affirming and long-term asset while allowing you to create the desired environment and atmosphere for your business. Contact us to discuss how we can help with your decorative concrete needs.